Silver Spirit Dining Guide
Silver Spirit has 8 dining venues, alongside an extensive room service menu, in-suite dining and the wonderful snack/coffee bar, the Arts Cafe. In this guide we will visit each in turn to give you a sample of what they offer and our opinion on our favourite restaurants.
LA DAME
La Dame is one of the two restaurants attracting a cover charge on Silver Spirit, in this case $60 per person. It is an intimate dining venue with only around 20 covers, mostly set out as tables for two, serving fine dining French cuisine. Of all the restaurants on board this is probably the hardest to get into and generally requires a reservation to be made quite a while prior to boarding the ship, using the on line reservation system. In fact, we would recommend that if you want to eat here you should make a reservation as soon as you book the cruise to ensure you get a table. As would be expected in such a salubrious setting the service is impeccable. Upon arrival you are greeted like long standing patriots visiting their favourite ever restaurant with a glass of champagne and a very warm welcome.

The food is as amazing as the service with starters such as caviar, foie gras, veal sweetbreads and coquilles St Jacques and each course paired with premium wines specific to La Dame. The soup course offerings include dishes such as boullibaise, lobster bisque and mushroom veloute which is followed by a sour lemon sorbet to cleanse the pallet. The entree course offers a choice of either meat or fish, including duck a la orange, beef fillet, braised beef, lamb steaks, lobster tail, turbot, Dover sole or sea bass. It is fair to say that the braised beef dish I chose was one of the tastiest dishes I have ever eaten. To fill that last little space left there is either a cheese platter, a chocolate mousse with strawberries, a fruit platter or a grand marnier soufflé, the soufflé being the only slight disappointment to an otherwise delicious meal. Dinner was finished off with tea/coffee and petit fours (honeycomb, mint jelly, salted caramel chocolate and apricot chocolate). Each course was separated by a lengthy break so the dinner became a whole evening event, lasting well over two and half hours. La Dame is the perfect venue if you are celebrating a special occasion on board and, lets face it, just being on board a Silversea ship deserves to be celebrated in itself.
SEISHIN
Seishin, the Japenese word for Spirit, is the other restaurant attracting a cover charge, in this case $40 each. It is almost as difficult to secure a table here as it is to La Dame, being of a similar size and layout. The only significant difference in layout being the large preparation station in the middle of the room which allows diners to observe the chefs preparing the sushi and other cold dishes. In the evening Seishin offers an extensive Japanese menu with dishes to tempt even the least adventurous diner. Upon arrival for dinner guests are greeted with a rather wonderful Saki cocktail served in the most amazing octopus glass. The menu offers a chefs recommended dinner but we decided to order from the main menu. For first course we chose the king crab paper wraps and tuna tartare, followed by king prawn tempura and wagyu beef skewers, and who could resist the surf and turf main dish - wagyu beef and lobster tail, delicious. Unlike the slightly disappointing finish to our dinner in La Dame, the passion fruit creme brûlée was the perfect ending to a delicious meal.

And the wonderful thing about Seishin is that even if you don't want to pay the cover charge or can't secure a table in the evening, it is open during lunch for guests to savour an amazing sushi menu. We would recommend visiting for both dinner and lunch since the menus are quite different and we thoroughly enjoyed the seafood sashimi and an assortment of sushi rolls as recommended by the fabulous waitress who served us on both visits.
ATLANTIDE
Atlantide is classed as one of the two main restaurants on board and as such is one of the largest. There is no need to make a reservation for this restaurant, it can accommodate differing size tables and we never saw a queue (despite following behind a large table of guests one night). The venue is very classic in decor and style, offering classic steak and seafood dishes. As someone who often likes to chose to eat vegetarian I was slightly concerned that I may struggle to make a choice in Atlantide, however, I need not have worried, there are a number of vegetarian options as well as a range of delicious meat and fish dishes. Of particular note were the signature lobster and caviar salad, the filet mignon and New Zealand lamb chops, and the beautifully presented and equally delicious lemon meringue dessert.
Atlantide is also open for breakfast and lunch. At breakfast time they serve the same extensive menu as the room service offerings. In our experience the restaurant was very quiet in the mornings (we were one of only three tables seated when we went) which meant that the service was second to none. Although we only went for breakfast once and didn't manage to visit to try the lunch menu, on slightly inclement sea days we would recommend eating here, it really does offer excellent food and service, if only it was used by other guests a bit more.
INDOCHINE
Indochine is the other of the two main restaurants, being of equal size to Atlantide and also not requiring reservation. This is classified as an Asian fusion restaurant, serving a wide variety of Eastern influenced cuisines, such as Teriyaki Chicken Skewers, Chinese Beef Tenderloin, Aloo Gobi and one of the most delicious Lamb Rogan Josh's we have ever eaten. And the desserts did not disappoint, offering some of my favourites, including coconut cream rice pudding and another delicious creme brûlée (which, if it isn't a Silversea signature thing should be - they really know how to make a good creme brûlée). We had heard mixed reviews of Indochine, and although it was often quite quiet in the evenings, this was our favourite restaurant on board, serving some truly delicious and different dishes - variety really is the spice of life in Indochine! And as it was not generally as busy as Atlantide we found the service to be a bit more attentive too.
LA TERRAZZA
La Terrazza is where most guests go for the buffet breakfast and lunch. Located at the aft of the ship it is aptly named after the lovely outside seating area attached to the main restaurant, with wonderful wake views to enjoy whilst savouring an al fresco meal. Breakfast is a lavish affair with almost every type of breakfast fare you could think of on offer. The buffet selection includes typical hot breakfast foods, pastries and breads, cold meats and cheeses, cereals and yoghurts and the best selection of fruit and berries we have ever seen on a cruise ship. There are also fresh egg breakfasts, waffles, pancakes and French toast to order through the table waiter who will ensure your fruit juice, tea or coffee is constantly topped up and refreshed.
At lunchtime the breakfast buffet is replaced with fresh sushi, a range of hot foods, breads and salads. There is also a fresh pasta bar which can be ordered through your table waiter and a separate dessert bar, definitely worth a visit.
In the evening La Terrazza becomes a full table service Italian restaurant. Whilst it is advised to make a reservation for La Terraza we managed to eat here, at peak time, without having made a reservation. The menu is typically Italian paired with fine Italian wines. Upon arrival we were offered a glass of prosecco and a tapas plate to share, along with a basket of Italian breads, featuring the most amazing focaccia. For starters we decided to share a delicious caprese salad in order to leave room for the obligatory pasta dish, featuring typical Italian dishes such as a hearty tagliatelle ragu and beautiful, vibrant linguine pesto. Entree dishes include veal Milanese, aubergine Parmegano, pan seared tuna and fresh sea bass, all accompanied by a rather wonderful Chianti Classico or Sangiovese Bianco. Then to top it all off in true Italian style the desserts in La Terrazza reflect what the Italians do best, a delicious Tiramisu, Panna Cotta or the most delicious Gelato on board.
SILVER NOTE
Silver Note is the 'foodertainment' venue, offering guests a chance to enjoy a meal whilst being entertained by a jazz duo. This is a small restaurant accommodating 30-40 guests on tables placed around a small dance floor. This is a complimentary restaurant and is obviously very popular as we found securing a reservation here quite difficult, even when booking on line prior to our cruise. The menu is promoted as tapas in style and definitely wins the award for unusual plates and presentation, offering dishes such as marinated octopus, beef crudo and tuna with quinoa. The menu is divided into Earth and Ocean selections both raw and cooked. The food offerings are quite different to the other restaurants on board and whilst the food was lovely it would not be my favourite restaurant on board were it not for the amazing entertainment on offer. On our voyage we were entertained by the fabulous Esther (singing) and Chantel (on the piano) who took requests from the floor and engaged with the audience, adapting the songs to make them their own. Don't get me wrong, the food is good but it is overshadowed by this wonderful duo and the chance to get up and dance to your favourite song in between courses. Although it may take some effort to secure a table here we would recommend doing so, it is so very different to all the other restaurants on board and deserves at least one visit per voyage.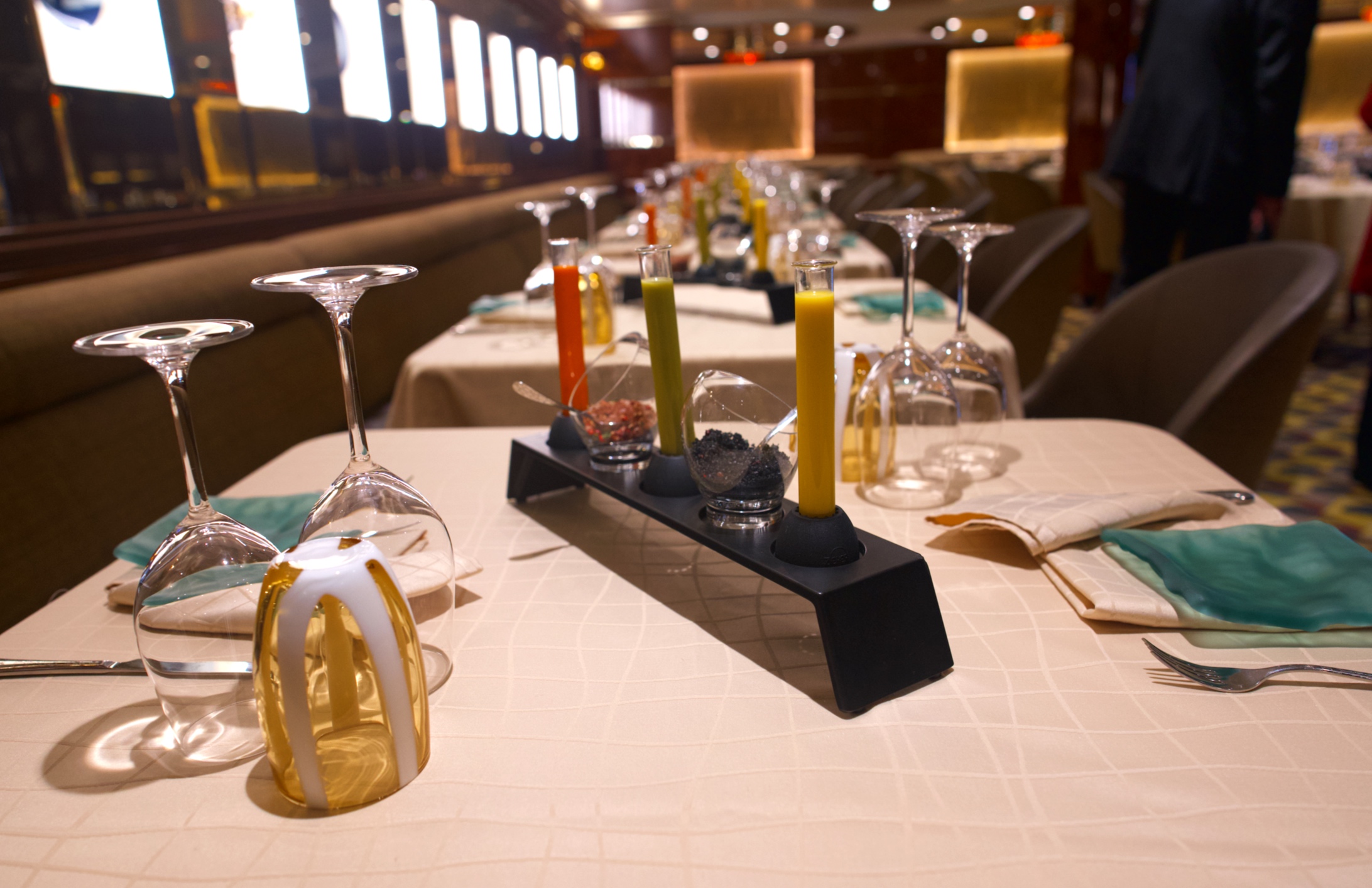 THE GRILL & 'HOT ROCKS'
The Patio Grill is located at one end of the pool deck with tables offered under a canopy near the grill area, along one side of the pool and some tables out in the sunshine for those wanting to eat under the sun. It opens every lunchtime at midday and stays open into the middle of the afternoon, so is perfect for those later returns after spending some time ashore or on an excursion. It offers all of the usual grill type fare, including burger, wraps, sandwiches and salads. We particularly liked the sharing platters and mezzes to share whilst waiting for our burgers to cook or eat as a snack round the pool. And to finish off a delicious al fresco lunch what could be better than a bowl of delicious gelato? The Grill is perfect for grabbing a snack round the pool or enjoying a three course lunch and quickly became our favourite lunchtime venue.
In the evening, the Grill turns into the popular Hot Rocks restaurant. Although you wouldn't necessarily need to reserve a table here, it would be advised to do so if you wanted to make sure you secure a table, especially when sailing in warmer climes where the lure to eat outside around the beautifully lit pool is too much to resist. Diners eating here need to come prepared for a little bit of interaction as they are expected to cook their own food upon the blisteringly hot lava stones the waiters bring to your table. This is one of the two relaxed evening restaurants attracting guests who may not want to dress up for the evening, which is probably a good thing given that each diner is adorned with a large grey apron upon sitting down (not our best look we have to admit!). Given the style of cooking, the food on offer is suited to grilling on a hot lava stone - steaks, king prawns, skewers etc. Each is served with a choice of sauce and side dishes and rounded off with desserts such as gelato and cheesecake.
SPACCANAPOLI
Spaccanapoli is the located above the Grill restaurant overlooking the pool deck and is the other relaxed outdoor dining venues. It is open from 11am to 11pm every day so perfect for any time dining. It is the traditional pizza restaurant on board, named after the famous street in Napoli lined with Italian pizza houses. The pizzas are freshly prepared to order and cooked in a traditional pizza oven and taste as good as any pizza we have ever eaten. It is also possible to order salads and side dishes which can be bought up from the patio grill downstairs and it is all finished off with a visit to the gelato bar located next to the pizzeria. Although we never had the chance to eat here in the evening, on a balmy evening at sea this would be a beautiful place to sit and watch the evening skies pass by - and who can resist a delicious pizza to accompany that.
ROOM SERVICE & IN-SUITE DINING
The Silversea breakfast menu is not only one of the most extensive we have ever seen but it is also one of the most sensible. Each guest has their own list printed on one whole side of the menu so they can make individual choices, so obvious and simple but so much better than most other door hangers. Once you've made your decision from the variety of choices on offer and decided upon a time, the card is placed outside the door. At the exact time we had requested our suite doorbell rang and our butler was there waiting to lay up our breakfast table and deliver our choices. There are some things on this menu that aren't available in La Terrazza buffet restaurant, including some unusual and very tasty dishes such as breakfast couscous and equally delicious savoury soufflés. However, the most outstanding Silversea breakfast dish has to be the Belgium waffles (also available in La Terraza and Atlantide) which tasted as close to the waffles we've sampled in Bruges as any we've ever eaten.
Room service is available throughout the day and offers the usual room service dishes such as burgers, sandwiches and pizzas but also offers guests the chance to enjoy a full three course dinner in their suite, great if you've had a busy day and just feel like relaxing in your room. This includes some rather lovely little dishes aptly named 'tongue twisters' which were equally as good as tasty little appetisers or daytime snacks, as well as a good selection of first courses. Followed by this is a varied selection of soups and pasta dishes before the main offerings including a variety of steak and fish dishes served with a choice of sides. To finish off is a small selection of desserts, ice creams and cheeses. Ordering is simple but do make sure you are specific about timings of each course when placing your order if you would like to eat it course by course. We have never experienced in-suite dining but what a wonderful way to spend an evening it was - eating a delicious three course meal accompanied by a bottle of champagne, while watching a movie in the privacy of your own room, perfect!
ARTS CAFE
Last but definitely not least, we could not leave this dining guide without mentioning the marvellous Arts Cafe. Although this technically is not a restaurant, this is the go to place for delicious snacks and treats throughout the day, and was largely responsible for my weight gain whilst on board! The Arts cafe offers a relaxing place to sit, be it indoors or outside, wonderful coffee and delicious snacks. It all starts at breakfast time with an array of pastries, fruit and yoghurt or breakfast panini's as well as fruit juices and smoothies. Moving into lunchtime there are soups, more paninis and mini desserts. But the best bit of the day is afternoon tea when an amazing choice of finger sandwiches, individual cakes, scones and cream and the biggest array of various sponge cakes miraculously appears - absolute heaven for the sweet toothed among us. And don't forget that pre-bedtime cup of tea, accompanied by delicious truffles of shards of unadulterated chocolate. As far as cruise ship cafes go this has to be one of the best at sea, we just wish we could replicate it just down the road from our house, but our waist lines probably wouldn't thank us.
Overall, the variety and quality of food and dining venues available on the Silver Spirit is truly outstanding given the size of the ship. Even though we were on a ten day voyage we struggled to visit every venue and there were definitely some we would have liked to have had the chance to re-visit. Oh well, I suppose we'll just have to sail on her again!
If you would like to read more on Silversea's Silver Spirit then why not take a look at our Caribbean cruise review?
Thanks to Silversea Cruises for inviting us on this Caribbean voyage to experience their newly refurbished ship, the Silver Spirit.