Our short, but very sweet cruise on the Azamara Pursuit
I'm ashamed to say that it is almost twenty years since we last crossed the border to visit our highland neighbours and I'm not sure why we have left it so long. When we were invited to join Azamara Pursuit in Oban we decided to drive from Norfolk to Glasgow then catch a train from Glasgow to Oban. The drive, although long, was easy and took us through some stunning scenery as we ventured further north from England into Scotland. Now I'm not a fan of train journeys (think two hour commutes to London and back) and this coupled with a cancelled train and resulting delays didn't make for the best start to this leg of our journey. But believe me the three hour train journey from Glasgow to Oban was one of the most stunning journeys I've ever taken and one I would highly recommend if ever the opportunity arises. Arriving into Oban at 9.30 in the evening was pretty spectacular too (especially after 16 hours 'on the road'), greeting us with a prettily lit harbour looked over by the magnificently illuminated McCaig's Tower. Thankfully our hotel, the rather lovely Perle Oban, was literally over the road from the station so it wasn't long before we were tucked up in bed getting a good nights sleep in preparation for our journey on the Azamara Pursuit.
The next morning we woke early to allow us to have a bit of time exploring Oban and visit the local distillery. I can't say I'm usually drinking whisky at 10am in the morning but when it is offered to you at the end of the tour, well it just would have been rude not to! After a quick walk round Oban we made our way to the tender to board the Pursuit and within half an hour we were on board and drinking a glass of champagne. We were staying in a balcony room which was very nicely appointed with a very inviting love seat and extremely comfortable bed. The slight negative of this room type is the size of the bathroom, which is very small with a shower to match, but if you can work round this then this room type is perfectly adequate for most needs.
After our long journey the day before, coupled with the inclement Scottish weather, we decided to spend much of the afternoon in the Living Room, starting out with a rather competitive game of Scrabble in the card room. All of that mental exertion warranted a little rest and what better place than the marvellous chaise lounge situated at the very front of the Living room with a fantastic view over the bow of the ship. And who can resist the marvellous afternoon snacks that miraculously appear, only to be replaced as the afternoon turns into early evening, with delicious tapas. One thing you won't do on the Azamara Pursuit is go hungry. There are snacks on offer pretty much throughout the day in both the Living Room and the Mosaic cafe. For something more substantial the Windows cafe has a wide variety of offerings and I have to say that I think the breakfast buffet on the Pursuit is the best I have ever seen on any ship (they even have sliced avocado), even tempting me away from the breakfast room service and the luxury of breakfast in bed!
Upon leaving the Scottish highlands and entering the open seas we were met with some rather inconsiderate sea swells thus curtailing our visit to the Discovery bar and restaurant, resulting in an early, seasick-tablet induced sleep! Thankfully we woke the next morning to the beautiful city of Dublin on a momentous day in history, a Papal visit to Ireland, the first since 1979. We decided to get into the city early and cover as much ground as possible before the crowds descended, visiting Trinity College, St Stephens park, Grafton street, Temple bar, the shopping district, historic Post Office and the famine memorial before returning to the ship for lunch. Having walked almost 10km, and with the sun intermittently sneaking out from behind the clouds, we thought we would treat ourselves to a burger from the alfresco dining venue, the Patio. This quickly became our favourite lunch venue with a temptingly delicious menu and the Swirls self service ice cream bar conveniently situated for dessert. Although the weather during our trip was not what would be described as Mediterranean, the patio heaters meant that this was still well used and I should imagine that in warmer climes it is very popular, serving lunch late into the afternoon for those passengers that return from exploring later in the day.
The luck of the Irish obviously shone on the Pursuit in the afternoon as the sun came out for a couple of hours, tempting us into the salt water pool and jacuzzi and even an unexpected spot of sunbathing! But all of that eating has to be counterbalanced by something more than laying around the pool, and so it was off to the gym for me. The gym is well equipped for the size of ship with regular complimentary sessions on offer for those that like something more structured.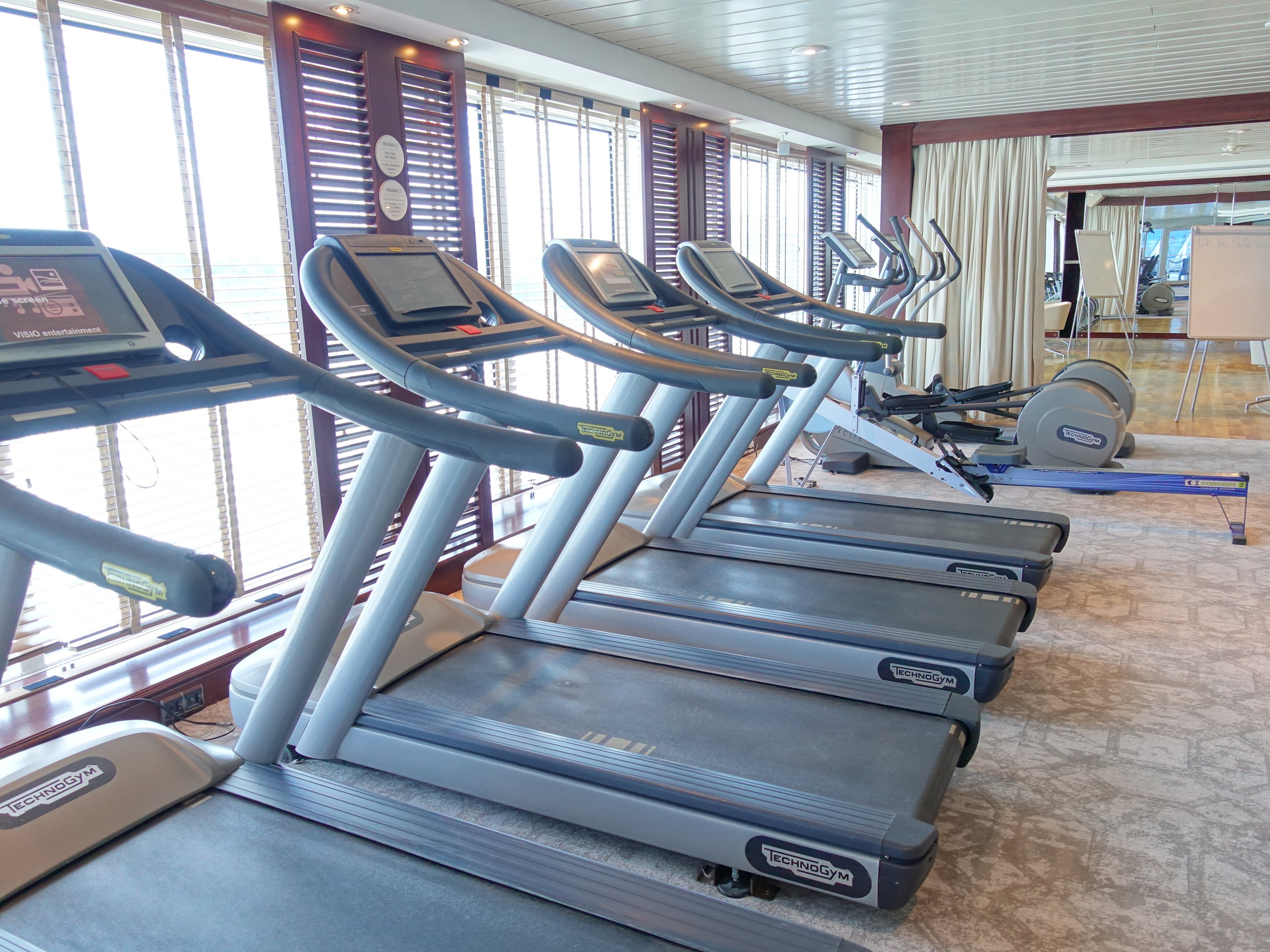 Back in our room, whilst getting ready for dinner we were distracted by the sounds of an Irish band playing on the quayside. Further investigation revealed the arrival of Lord David Trimble PC, First Minister of Northern Ireland from 1998 to 2002 and Nobel Peace Prize winner awarded for his pivotal negotiations that led to the Good Friday Agreement in 1998. In typical Azamara style he had been invited on board for a Q & A session with guests on this cruise. Talking of which I have to mention our fellow travellers (whom I'm sure are representative of most Azamara guests), who were informed, well-travelled, polite, friendly and engaging company. Unfortunately we weren't able to make this as we had an early dinner reservation but fellow passengers who joined us later for dinner reported how well attended this was and was probably the explanation for our later than expected departure from Dublin.

This evening we had been invited to dine in one of the specially restaurants on board, Prime C. We started the evening at the Prime C bar for a pre-dinner drink. Azamara offer an extensive list of complimentary drinks as well as the option to upgrade your drinks package if you prefer certain brands or more exclusive wines. As this was our first time on Azamara we decided that Rich would take out the Ultimate drinks package and I would try sticking purely to the complimentary drinks, to see how they compared. I have to say that largely I found the complimentary drinks perfectly adequate. The only time I felt short changed was when I ordered a glass of the complimentary sparkling wine and Rich had a glass of champagne, but there was nothing stopping me from paying for an individual glass, and we both agreed that we probably wouldn't bother to upgrade our drinks on future cruises, the complimentary cocktails and wines being perfectly adequate.
Whilst we are on the subject of packages, it is worth mentioning the dining packages. The main dining room, Discoveries, is a lovely venue, situated at the rear of the ship with a stunning view of the ships wake to accompany your meal and serving a delicious and extensive menu, but for a special treat the speciality restaurants are definitely worth the small cover charge. Prime C is the steakhouse style restaurant where the service is ultra attentive with a menu featuring the most delicious filet mignon I have tasted in a long while. Whilst the service here is impeccable I have to say that I could not in any way fault the service throughout our entire time on board. The crew are outstanding and I suspect are one of the main reasons that returning passengers love Azamara. They are attentive without being pushy, they are friendly without being too informal and they seem to be genuinely happy in their work - a real credit to Azamara!
After a sumptuous, leisurely dinner at Prime C we wandered down to the Cabaret Lounge for the variety show, featuring Tony the Cruise director, his wife Christine and Amanda the assistant cruise director, all wonderful performers in their own right and expertly accompanied by the wonderful ships band. A fitting end to a wonderful day.
The next morning we awoke to a spectacular sail in down the River Barrow into Waterford. Once docked, Azamara had arranged for a tourist advisor to come on board to help guests decide what to do in a sleepy Waterford on a bank holiday Sunday. Both in the ship and on the free shuttle bus provided to get us directly into town, the tourist advisors were bursting with information and useful advice on what to do when we got there. As it was Heritage week we were able to get free admission to some of the historic sites so we started with a tour of Reginald's Tower, one of the oldest buildings in the oldest city in Ireland, dating back to the 12th century. This was the perfect start to a wander around the historic Viking triangle before a visit and tour of the magnificent Waterford crystal factory.
Back on board for lunch, with the murky weather clearing, we decided to walk the mile round the top deck, before going back to our room for room service tea and biscuits to nibble on as we sat on our balcony to watch the sail out from Waterford. This evening was the much anticipated Azamara White night party, but unfortunately because of the inclement weather it was to be held indoors, which was a little disappointing, but a great excuse to have to go back on another Azamara cruise to experience it on the open decks! We started the evening at the Spirits bar in the Den for pre-dinner drinks, this was our favourite bar serving lovely cocktails accompanied by an excellent pianist. We decided to eat in the Discoveries restaurant since they were serving the delicious surf and turf, and we were not disappointed. By the time we had finished our dinner the white night party was well underway in the Cabaret Lounge and later moving to the living room, continuing the dancing long after we had gone to bed.
Monday was a much anticipated port of call for us, with a stop into our much loved Cornwall, sailing (backwards) into beautiful Fowey. We decided to take our breakfast on our balcony and take in the stunning view as we sailed passed gorgeous Polruan, before anchoring just outside Fowey. The tender to Fowey must have been one of the shortest and smoothest crossings I have ever taken and we were quickly wandering around this beautiful village along with other Bank Holiday Monday visitors eating delicious, freshly baked Cornish pasties and fudge. This was truly a bucket list stop for me and is what makes Azamara a unique brand, sailing into ports that other ships just can't get to, giving its guest the chance to immerse themselves in less often visited destinations. And although we may have been an unusual sight for the folk of Fowey, quite a lot of them came out to the quayside to wave us off.
For our last evening on board we were booked into the speciality restaurant, Aqualina. The food and service here was again superb - make sure you try the lemoncilo soufflé, it was one of the lightest and scrumiest soufflés I have ever eaten (and I'm a scuffle expert!). The evening was perfectly rounded off with entertainment in the Cabaret Lounge from the on board singers in a show aptly named Four on the Floor, with a good mix of songs from four peice bands ranging from ABBA to The Four Tops, to Coldplay and One Direction, amongst others. Since we hadn't yet packed our bags it was then time for a quick cup of tea in Mosaics cafe then off back to our room to get ready to leave the ship the following morning.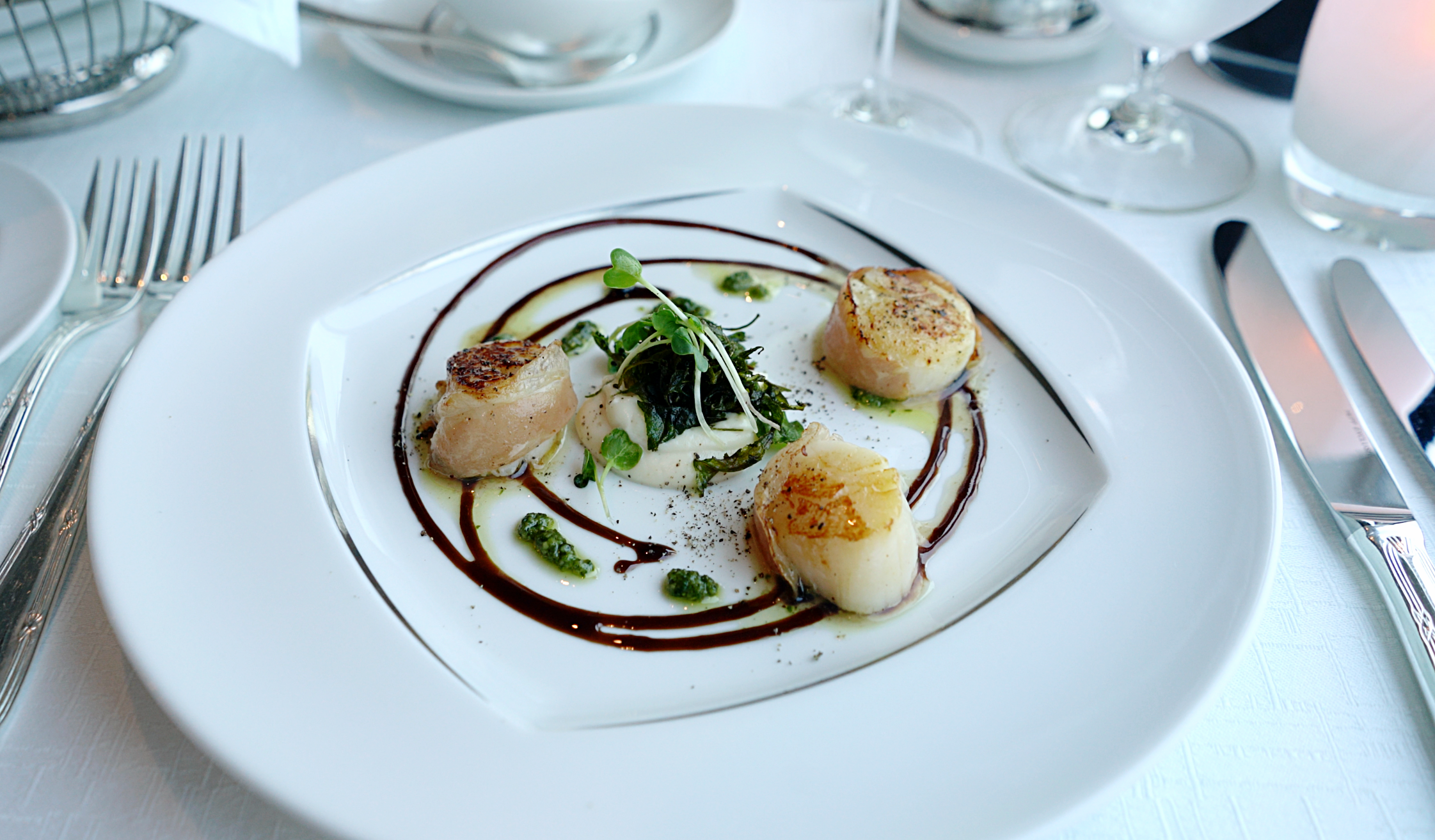 So what are our conclusions about our first short, but action packed cruise on Azamara Pursuit? First the niggles. In the non suite cabins, the bathrooms are very small with a tiny shower, made even smaller by the dreaded clinging shower curtain and a shower head that took a very 'relaxed' attitude to water pressure. We also found the TV in the cabin to be pretty useless with only a couple of scheduled movies a day and no channel guide. This was fine for us since we were busy with port stops every day but I can see how this might be something we would want more choice in if we were sailing for longer with more sea days. However, Azamara have promised to bring in new IT systems across all of its ships by 2020 which along with better wifi and online information, will hopefully address this issue too.

On to the positives, of which there are many more and far outweighing the niggles above. Firstly, it has to be the unusual and varied destinations which for us ranged from the capital city of Ireland to a small Cornish fishing village. Azamara voyages offer that good mix of sought after bucket list destinations alongside smaller, more unusual ports which you wouldn't normally consider to be cruise stops.
Next it has to be the well thought out and extremely comfortable public areas on board. As the weather was not particularly kind to us as we were cruising, it was great to be able to find somewhere other than the pool deck to be able to relax comfortably in while still enjoying the scenery on offer. Well done Azamara for creating areas like the Living room, the Drawing Room and the Den which make cold weather cruising that much more enjoyable.
We can't not mention the food, which is excellent and plentiful. We loved the little snacks available in the Living room or the Mosaics cafe and the ability to eat al fresco in either Windows cafe or The Patio, I'm still dreaming about those nachos! Though we didn't have time to order an in suite meal the room service menu looked very appetising and we thoroughly enjoyed our breakfast which was well presented (we were even offered a table cloth for the balcony table) and tasty. The main dining room offers excellent menus and for those special occasions the food and service in the speciality restaurants just could not be faulted. We particularly liked that we never felt rushed, and even took a stroll round the open deck in the middle of our meal in Prime C!
Other things to mention are the Azamara special events, the white night party and the Azamazing evening which we weren't lucky enough to experience but by all accounts make for some very special memories. And last but most definitely not least the stand out best bit of our cruise were the crew and the service they provide. They are exceptional. Even though we weren't on board for very long they made an effort to engage with us and get to know our preferences. They made for a very special trip and we can't wait to return for another Azamara experience.