Azamara Dining Guide
Discoveries Restaurant
Discoveries is the main dining room located at the aft of the ship on deck 5. It spans the entire width of the ship and is made up of three main areas - a central raised dining area flanked on both sides and along the back. Discoveries is open every day for breakfast usually from 8am until 9.30am with table service from the breakfast menu which offers a variety of slightly more unusual breakfast dishes, as well as the usual fare of hot and cold food. We would throughly recommend taking breakfast here at least once or twice per cruise. It is usually quite quiet in the mornings but the food on offer is amazing and if you want a change from your usual fare you will definitely be able to get it in Discoveries.
On sea days Discoveries opens for lunch from 12.30-1.30 and offers a four course lunch with a choice of five dishes from the main course including a pasta dish, a sandwich dish and a burger. If dining in Discoveries for dinner you may choose to start the evening in the Discoveries bar, a cosy little bar located at the entrance to the restaurant which is perfect if you fancy a quiet pre-dinner drink (there is no live entertainment here). The bar opens from 5.30-9.30pm with dinner served from 6-9pm. The four course menu varies slightly every night but has core dishes that run every night, as well as a chefs special dish and a 'world cuisine' dish which usually reflects the cuisine being served in the buffet restaurant. Wine is served with the meal and tea/coffee is offered at the end. There are no petit four but at the end of your evening on board these will be waiting in your room instead of the usual pillow chocolate.
Windows cafe
Windows cafe is the buffet restaurant located at the aft of the ship on deck 9 next to the pool area. It is a large light restaurant with tables positioned along the sides to make the most of the sea-view and a lovely open terrace at the rear of the cafe for enjoying al fresco dining (in colder climes this area has patio heaters to tempt diners outside). There is a self service tea/coffee station which is open all hours for guests to grab a hot drink to sit down and enjoy or take away with them.
In the morning the buffet is open for breakfast from 7-10am (half an hour later on sea days) and serves one of the widest varieties of food we have seen on a ship for breakfast, including avocado on toast (my favourite). And if you fancy a treat why not ask for a mimosa or glass of sparkling wine to accompany your breakfast, it's complimentary.
At lunchtime Windows cafe is open from 12.30-2.30 (noon on a sea day) and offers a variety of salads, pizza, pasta, hot dishes and sandwiches, all topped off with a delightful dessert or a dollop of freshly made gelato. Wine and beer are served with lunch and we have never had a problem getting a table, whatever time we turn up.
In the evening the buffet usually has a themed menu such as Italian, Mexican, Asian, Greek or Indian. It opens from 6.30-9pm and will offer a variety of dishes generally based upon the theme of the evening. Again wine and beer are served with the meal and it is totally open seating.
The Patio
The patio is a little restaurant area set to the side of the pool with heaters for those cold days. It is open for lunch orders from the menu featuring fayre such as burgers, hot dog, nachos, kebabs and paninis. It opens at midday and stays open until 5pm so is the perfect spot for a late lunch if you're on a longer tour. There is a self service salad bar and ice cream machine but all main courses are ordered through the table waiters.
Also open in the evening as an alfresco informal dining venue it offers delicious fare such as lamb tenderloin, chicken Kiev and steaks. Starters are again self service from the salad bar though there is also a hot or cold soup available. In the evening there are desserts on offer as well as the ice cream, with either a pie, a cake or a cheese plate to choose from.
Aqualina Italian speciality restaurant
This is the Italian speciality restaurant on board and commands an additional charge of $30 each (unless you are a suite guest and then it is complimentary). This is my personal favourite and was the restaurant I chose to dine in for my birthday when we were on board. The service is impeccable, we felt like we were the only people our waitress had to tend to, and the food was delicious. There are a range of Italian starters, followed by a soup or salad dish, then the choice of either a pasta dish or an Italian entree, all finished off with a delicious dessert and a surprise portion of tiramisu. And as it was my birthday we were also given a delicious cream cake which we had to take back to our room for breakfast, we just couldn't eat any more! A word of warning, don't come here unless you're hungry, you'll eat so much.
Prime C steak house speciality restaurant
This is the steakhouse style speciality restaurant attracting a $30 per person surcharge (unless you are a suite guest and then it is complimentary). This is Rich's favourite restaurant and is a very popular restaurant making it quite difficult to secure a table here. The setting is beautiful with tables situated along the large floor to ceiling windows, beautiful table settings and service which is second to none. On offer is a four course menu with traditional steak house style indulgent and delicious dishes. We have to give a special shoutout here to the head chef of both speciality restaurants who specially prepared a lemon soufflé for my visit here. When we had visited Aqualina restaurant at the beginning of our voyage I had asked about the limoncello soufflé which had been on the menu last time we were on the ship but had been replaced by a hazelnut one. Our wonderful waitress had asked the chef if he would be able to make me one but he didn't have the ingredients on hand. However he promised to make me one when we returned to Prime C at the end of the voyage and it was as delicious as I remembered it to be. In fact the gentleman sitting on the table next to us liked the look of it so much he asked for one too, and chef obliged! Such a treat to be made to feel special and an excellent example of the amazing service Azamara provide.
Chefs table
At $95 a head the Chefs table might seem like a bit of an extravagance, but believe me when I say that it is well worth the money and will provide you not only with a delicious tasting menu meal with wine parings but also an excellent evenings entertainment. Situated in Prime C restaurant the table is usually laid out for 10 or 12 guests depending on how many have booked for that evening. The evening starts at 6.45 when guests will be seated at the beautiful table before being served a glass of prosecco and given time to introduce themselves to their fellow diners for the evening. Not long after that the sommelier, chef and waiter introduce themselves and the format for the evening which will have a either French, Italian or Stateside theme. We were there on the Italian evening and had a seven course menu with wine flight, starting with a tuna dish paired with a crisp cold glass of Italian Prosecco.
Following the starter we then had a fish soup paired with a nice cold Pinot Grigio and then a ravioli dish with mushroom veloute this time paired with a red Italian Chianti wine. This was followed by a melon and mint granita to cleanse the palette. For main course there was a choice (the only choice of the evening) of either turbot or beef tenderloin. Most of the table chose the beef tenderloin which was paired with another delicious Italian red wine.
As the evening progressed and the number of glasses of wine consumed we became more familiar with our fellow diners and the laughter count rose. Our penultimate dish was a small plate of cheeses with four bite size pieces of different cheeses before the delightful finale of tiramisu served with a raspberry sorbet and chocolate macaron, accompanied by a delicious slightly sparking dessert wine. Not only had we enjoyed a delicious meal we had made some friends we would continue to chat and spend time with throughout our voyage.
Mosaic cafe
This is the on board coffee stop located in the heart of the ship, convenient for grabbing a take out coffee as you leave for a day in port. It is open from very early in the morning until very late at night and offers a variety of teas and coffees to drink in or take away. There is also a handy little snack bar with breakfast, lunch, afternoon tea and evening sandwiches, pastries and cakes. On our voyage this was also the location for the infamous late night chocolate buffet (which we forgot to get any pictures of, but believe me when I tell you it was pretty spectacular!).
The Living Room
This is a large venue located at the front of the ship on deck nine. It is the perfect place to sit and relax at any time of the day, with its panoramic windows over the bow of the ship and along both sides. There is a large bar serving hot and cold drinks, cocktails, wines and beers. Alongside the drinks bar is a small food station stocked with snack type foods dependant upon the time of day - light breakfast fare and pastries in the morning; sandwiches and rolls at lunchtime; afternoon tea, cakes and scones in the afternoon; and tapas small plates in the early evening to accompany pre-dinner drinks.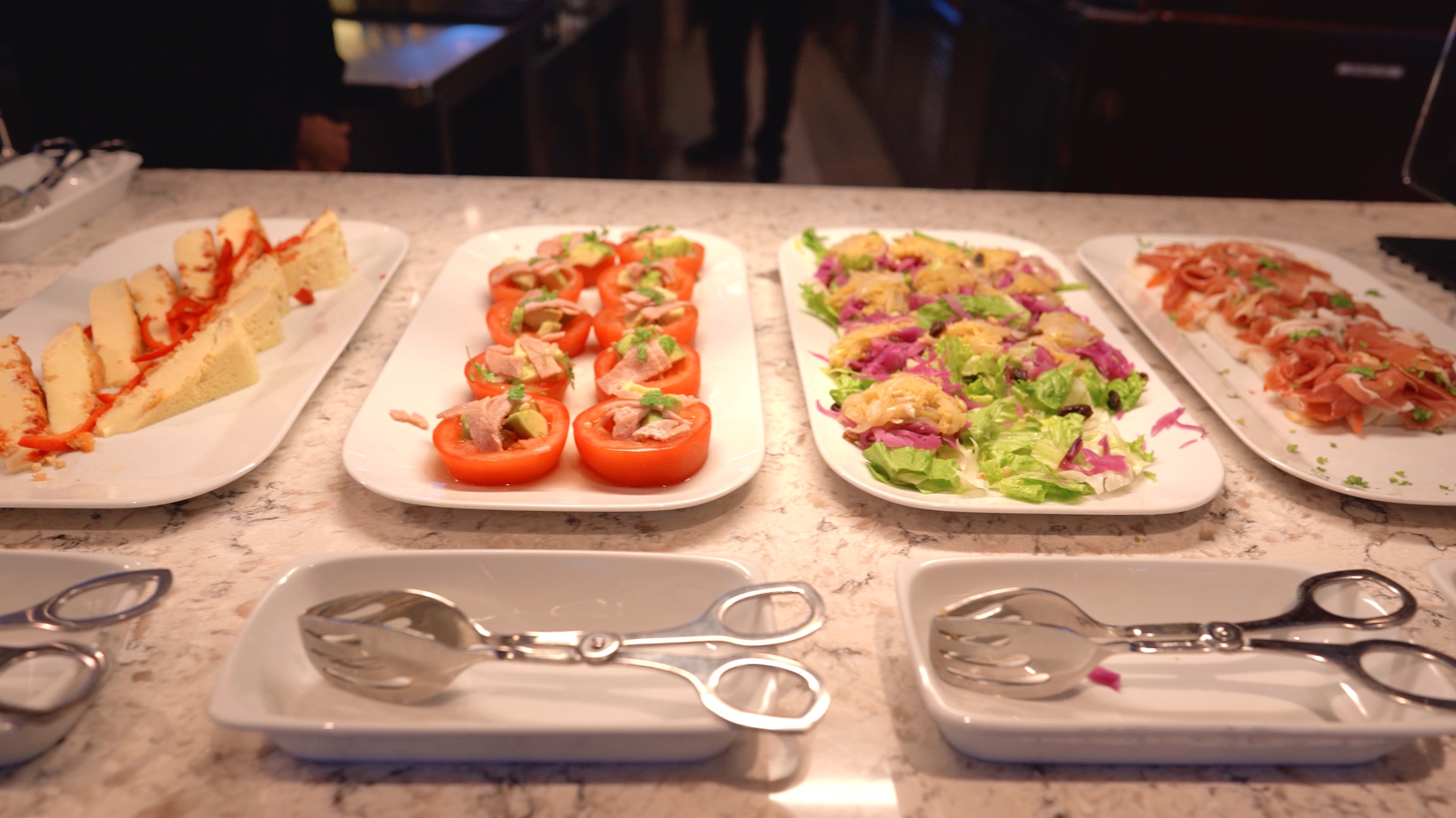 In-suite dining
In-suite dining is available 24 hours a day at no extra cost. There is an extensive breakfast menu with a pre-order form available to put out the evening before or an in room menu available to order over the phone. During the day there is an extensive menu to choose from with the usual room service fare of pasta, pizza, burgers, salads and sandwiches. During Discoveries dinner hours the menu is also available to order as room service for guests to enjoy in their suites, served course by course. And for those that might get hungry throughout the night there is a limited menu available to satiate those midnight munchies. Once your order is phoned through it is usually delivered within 15-30 minutes and arrives with all of the necessary tableware to enjoy a beautiful meal either on your balcony or in your suite.

For a relatively small ship Azamara offers a wide range of dining venues. Although three of these attract a small charge (unless you are a suite guest) in our opinion they are worth splashing out on at least once in a voyage. If you do wish to dine in any of the speciality restaurants we would advise you to go to the dining desk located in the Horizon buffet as soon as you board the ship and make your bookings as early as possible - they are very popular and get booked up very quickly. That said, we absolutely loved the other venues, all of which offer extensive menus of quality dishes and provide enough variety without having to visit the speciality restaurants if you choose not to. The menus in the restaurants and the dishes in the self-service venues are all well labelled with regards to food allergies, intolerances and preferences, with vegetarian dishes available on all menus, as well as a separate, more extensive vegetarian and vegan menu available upon request. One thing is for certain, you won't go hungry on an Azamara ship!
With many thanks to Azamara Cruises for hosting us on this voyage.
If you have enjoyed this blog and would like to know more about Azamara Cruises then please visit our other Azamara blogs:
Our short but sweet cruise on the Azamara Pursuit